6 menswear trends from spring/summer 2023 to know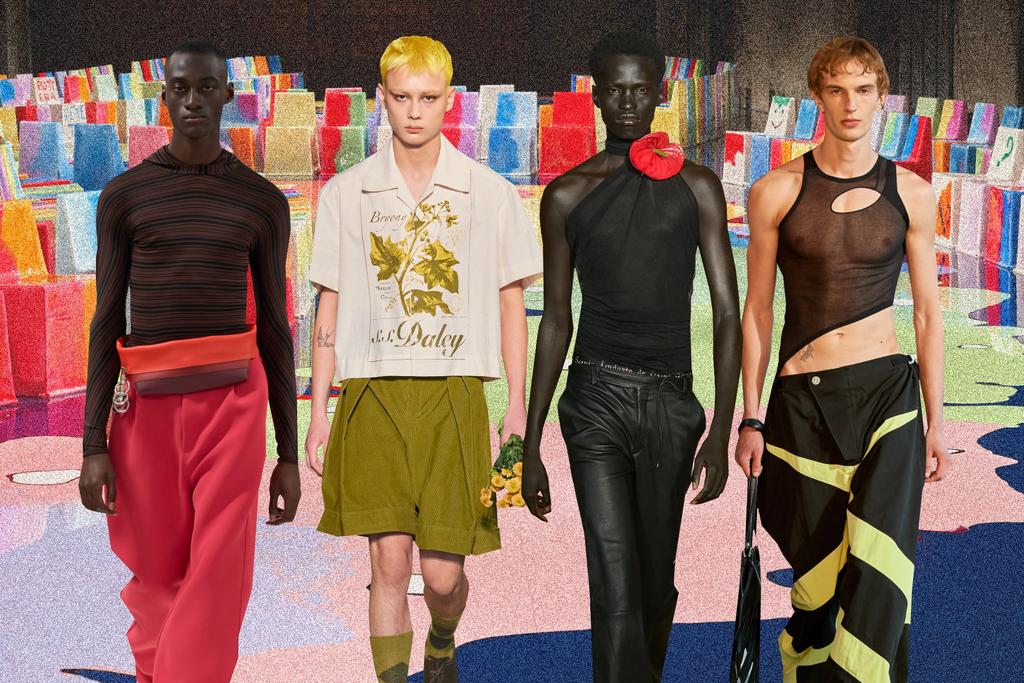 Above (L-R): Sunnei, S.S. Daley, Ludovic Saint Sernin, Dion Lee
Designers this season toyed with the duality of man. On the one hand, the ready-to-wear fashion of spring/summer 2023 was cool and stark—gothic blacks and nonchalant beiges, worn with a minimalist intent. Some runways saw the shades draped loosely on the body. Loose tailoring was all the rage at Peter Do and Jil Sander, where button-ups and Bermuda shorts were key to the designers' visions of the modern, city-slicking wardrobe. Others preferred a sexier approach; black cut-out tops and clingy tanks, slipped under a pair of leather trousers.
But there was also a lightness and femininity to the clothing. Florals were a key motif, held as accessorising bouquets at S.S. Daley and anthurium adornments at Loewe and Ludovic Saint Sernin. Tops too were sheer and delicate, lacy in the collections at Acne Studios and Sunnei and woven out of metallic thread at Dion Lee.
Below, we round up the 6 menswear trends that shaped the spring/summer 2023 runways.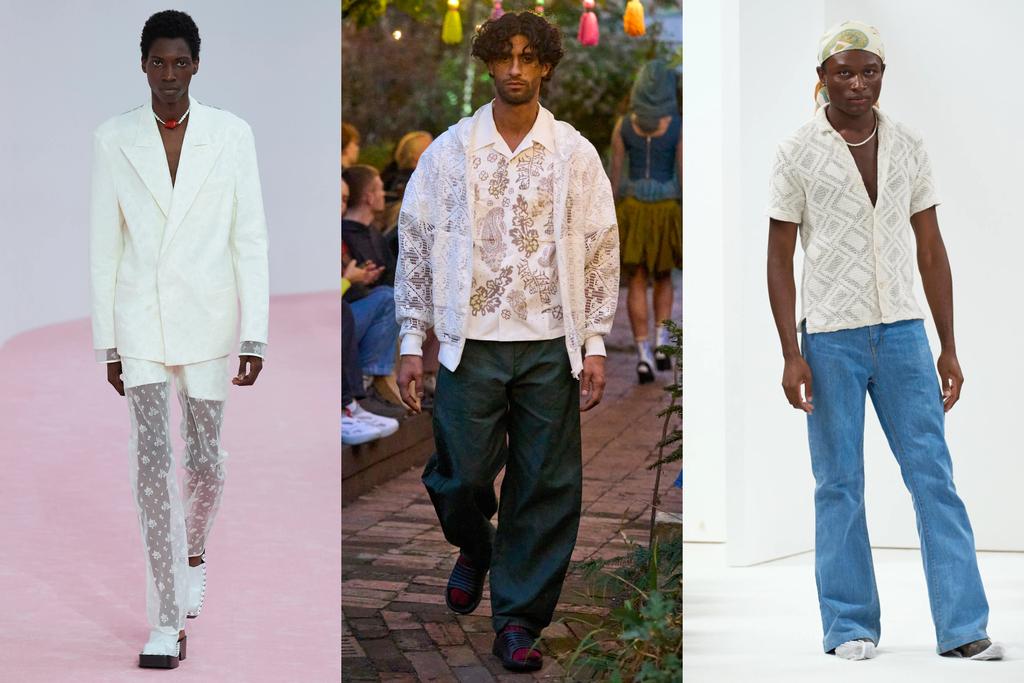 Above (L-R): Acne Studios, Paria Farzaneh, Sunnei
Laced goods
This season, clothes took on the freshness of spring. Lace, a fabric championed also on the womenswear runways in spring/summer 2023, appeared in the collections at Acne Studios, Paria Farzaneh and Sunnei. There, it was reimagined, spirited away from its associations with doilies and stuffy wedding gowns, and used to lighten ensembles in a playful, slightly sexy way—a pair of see-through pants, for example, or an openwork top unbuttoned to the sternum. Think of it as a palate cleanser for your fit.
Above (L-R): Dion Lee, Off-White, Balenciaga
Berghain blacks
Fashion month this September well and truly belonged to the goths, both current and reformed. Designers, however, indulged in quite the grown-up approach to moody, all-black clothing. Looks were less of the Y2K-inspired, "it's just a phase mum" strain and more firmly planted in minimal adult elegance. At presentations like Dion Lee, Off-White and Balenciaga, gothic sensuality was refined, and took the form of sleek, tailored pieces: a buckled mini skirt, leather trousers and cut-out tops. Very Berghain, ultra-clean, and far from funereal.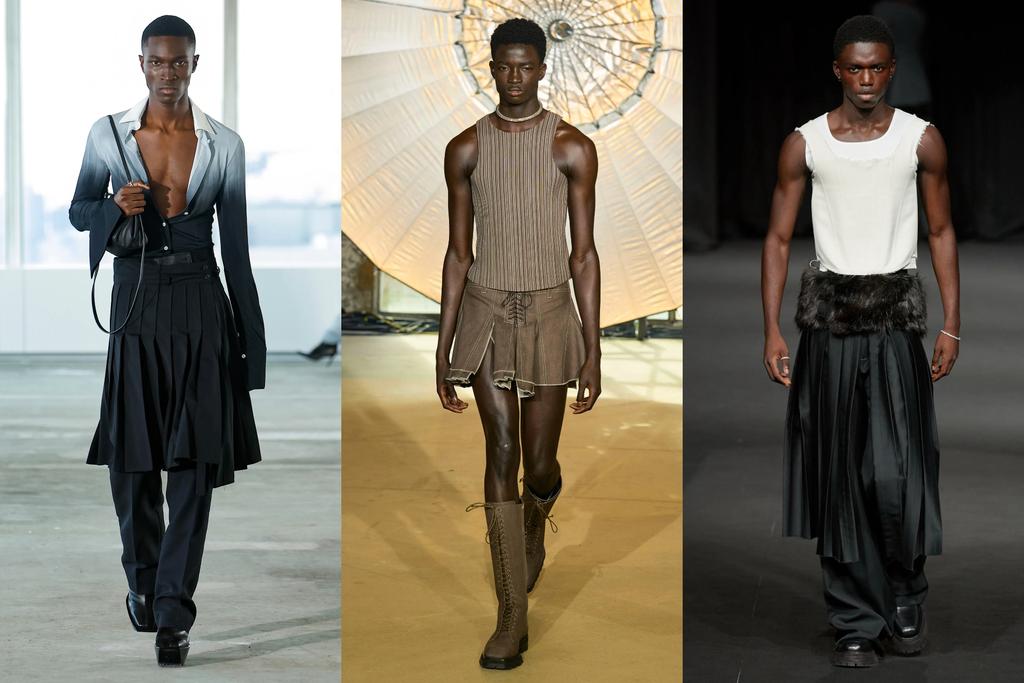 Above (L-R): Peter Do, Ludovic Saint Sernin, Daniel W. Fletcher
Pleated skirts
Skirts, once the sole terrain of Thom Browne and Scottish men, are no longer an anomaly in menswear collections. If you've been toying with the idea of getting kilted up, the spring/summer 2023 shows this month were clear: now's the time. If you're feeling jittery about it, make like the models at Daniel W. Fletcher and Peter Do, who layered their pleated midis over matching trousers. But if you're ready to party—and who isn't in a sunny season like this—give yourself the Ludovic Saint Sernin treatment with a mini skirt. Trust us, you'll appreciate the extra breeze.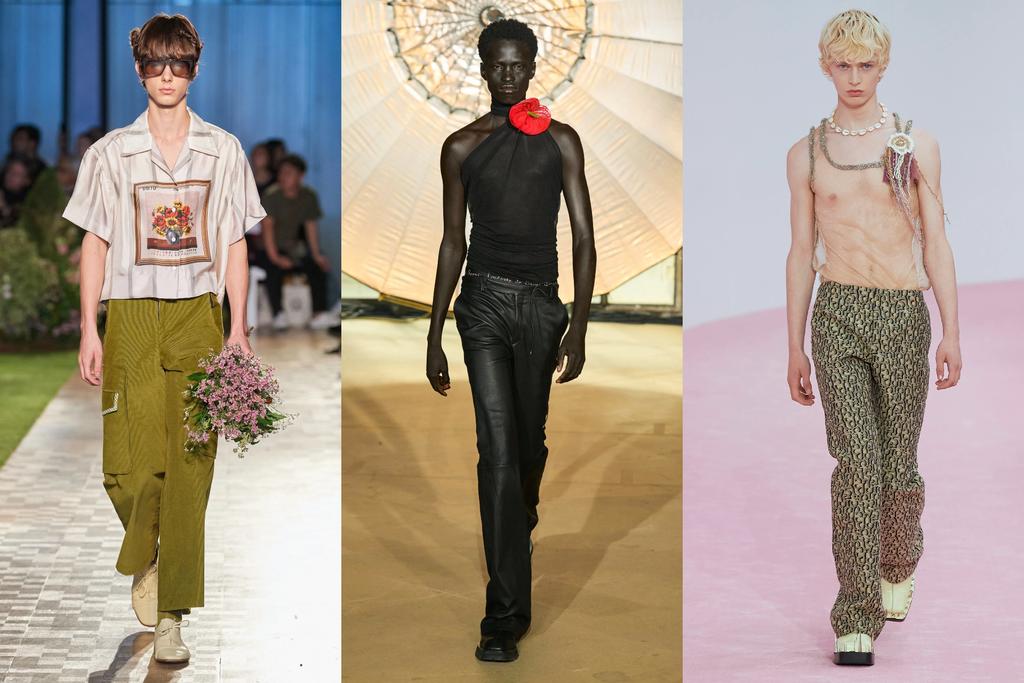 Above (L-R): S.S. Daley, Ludovic Saint Sernin, Acne Studios
Tactile florals
Turns out, florals for spring can be groundbreaking. There was not one, but two designers this spring/summer 2023 season who made the anthurium their muse. At both Jonathan Anderson's Loewe and Ludovic Saint Sernin, the laceleaf was king; it adorned the bodice and appeared as a luxuriously dimensional appliqué, pinned to the hip and shoulder. Meanwhile, at S.S. Daley, the Liverpudlian designer referenced the '20s and '30s with graphics of still life tapestries. He splashed these front-and-centre of his camp collar shirts—an homage to Vita Sackville West and her famous garden.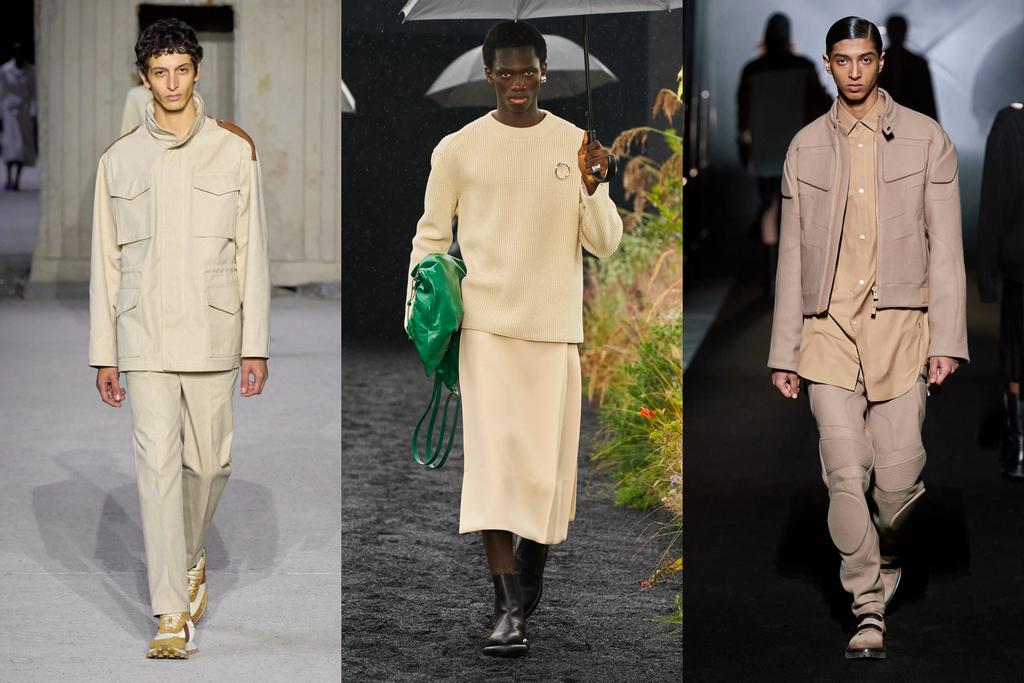 Above (L-R): Tod's, Jil Sander, Boss
That's so beige
What can we say, except that our editor Will Lennox called it, or perhaps, wished it into being. Beige has well and truly been reclaimed for spring. This season, the collections from Tod's, Boss and Jil Sander saw the subdued shade worn head-to-heel. Silhouettes were minimal, and relaxed tailoring was key. Want to wear beige for yourself? Stay away from embellishments and let the colour speak for itself. It's quiet on its own, but layering makes it loud in the best way possible.
Above (L-R): Dion Lee, Diesel, Ludovic Saint Sernin
The new party top
For the love of God, throw that Hawaiian shirt away. At the very least, stop calling it your party top. It's been a long time coming, but this season's collections were truly its death knell. A new party top has come to town and it's shinier, sexier, slinkier, better. Dion Lee and Ludovic Saint Sernin saw the itty-bitty metallic tank paired simply with trousers and a camel-coloured midi skirt, while at Diesel, Glenn Martens hid his under a denim duster. It poked through, silver, through the lapels—a sheer delight.
—
Sign up to GQ Australia Daily to stay up to date with the latest in entertainment, style, fitness and business.
THANK YOU.